LONDON: Police investigating an acid attack which may have permanently blinded a delivery driver have arrested a teenager.
The suspect was held on suspicion of grievous bodily harm after the attack in Walthamstow. He was taken to a police station in east London for questioning.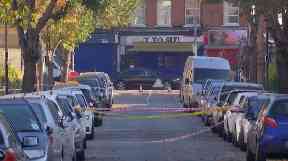 The victim of the Walthamstow attack, a 32-year-old man, was approached by two men on a scooter who tried to steal his moped.
He was sprayed in the face with acid and remains in hospital in a life-threatening condition. Police say he is likely to lose the sight in both eyes.
About 30 minutes after the attack, another delivery driver was attacked less than two miles away in Tottenham.
Detectives investigating two separate acid attacks, including one which has left a man critically injured have made an arrest. A teenage boy was arrested on Friday, 3 November on suspicion of GBH in relation to an attack in Walthamstow and taken to an east London police station for questioning.

Met Police