SUFFOLK: A US Air Force base was placed on lockdown after an unauthorised man drove through the checkpoint and was shot at as he sped towards a military plane, police said.
The 44-year-old British man failed to follow security directions at the entrance to RAF Mildenhall, near Bury St Edmunds, at 1.40pm on Monday, Superintendent Kim Warner, of Suffolk Police said.
He drove onto the base and there was a "short pursuit" until the vehicle was stopped by US military personnel, he said.
Sky sources said the man pretended to be someone else to get through the checkpoint.
There were initial reports of a car being rammed into the checkpoint, but Supt Warner said he was "unaware of any damage to the base itself".
He added: "There is no obvious motive at this stage."
Supt Warner said the vehicle was stopped close to a US Osprey, a £43m helicopter which converts into a turboprop airplane once airborne.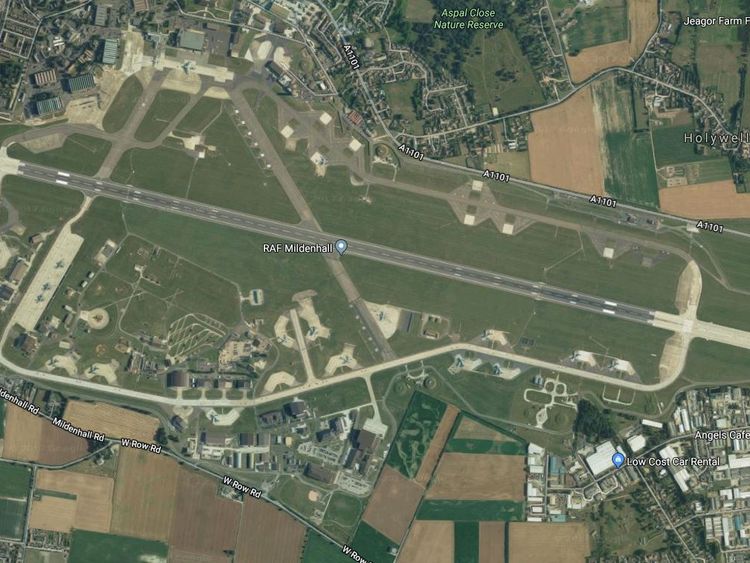 He said there was not thought to be "any significant damage" to the vehicle or the aircraft.
US military personnel shot at the man who avoided serious injury and was stopped by US security services with some cuts and bruises.
The base was put on lockdown, as were schools in the local area.
Police said the man is being held on suspicion of criminal trespass, with the incident not being treated as terrorism.
"There is no wider threat to the public or occupants on the base and no other people have been injured," a spokesman added.
Senior Master Sergeant Brian Boisvert told Sky News: "We are notified by our types of mass communication that an incident has occurred so what we will hear is the words lockdown, lockdown, lockdown – and at that point we will respond by going in to a sheltering place."
A National Police Air Service helicopter was also called to the base.
The lockdown was lifted at about 2.50pm, nearly two hours after the incident started.